Special Financing
Comfortable Monthly Payment Plans Starting As Low As $169/month.
Low Monthly Payment Plans To Fit Your Budget.
Call today to schedule your exam
530-823-5468
If you're living with missing or infected teeth, your oral health needs might be more urgent than you realize. Missing teeth can lead to the collapse of adjacent teeth, misalignment of your jaw bone, and substantial bone loss. Fortunately, you no longer have to wait to get the procedure you require.
Auburn Oral & Maxillofacial Surgery offers special dental implant financing plans to meet your needs. The application process is easy, and we're more than happy to walk you through it.
---
CareCredit offers a full range of payment plans to suit a variety of budgets and make your dental implants affordable. If your financial situation could benefit from an interest-free plan, you may be able to avoid paying finance charges through the "No Interest Payment Plan." With this plan, you'll pay a monthly minimum and pay off the balance in full within 3, 6, 12 or 18 months.
If you have any questions or wonder how to make your dental implants more affordable, we would be happy to assist you with the application process when you come into our office, or by phone or e-mail.
We're here to help you get dental implants so you get the smile you deserve for a price you can afford! Don't put off your dream smile any longer. Schedule your consultation today to take advantage of this offer and to discuss your financing options with CareCredit.
---
The GreenSky Patient Solutions® Program
The GreenSky Patient Solutions Program makes it possible for you to receive the healthcare treatments and services you want and need without delay.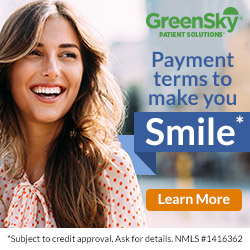 This is a "soft" credit check.
Auburn Oral & Maxillofacial Surgery
3113 Professional Dr #4
Auburn, CA 95603
 530-823-5468
Office Hours
Mon-Fri: 8AM-5PM
Sat: Closed
Sun: Closed
Patient Reviews
"Caring and gentle staff in a comfortable office environment"
– Lisa M.
Schedule your FREE Implant Consultation.
530-823-5468